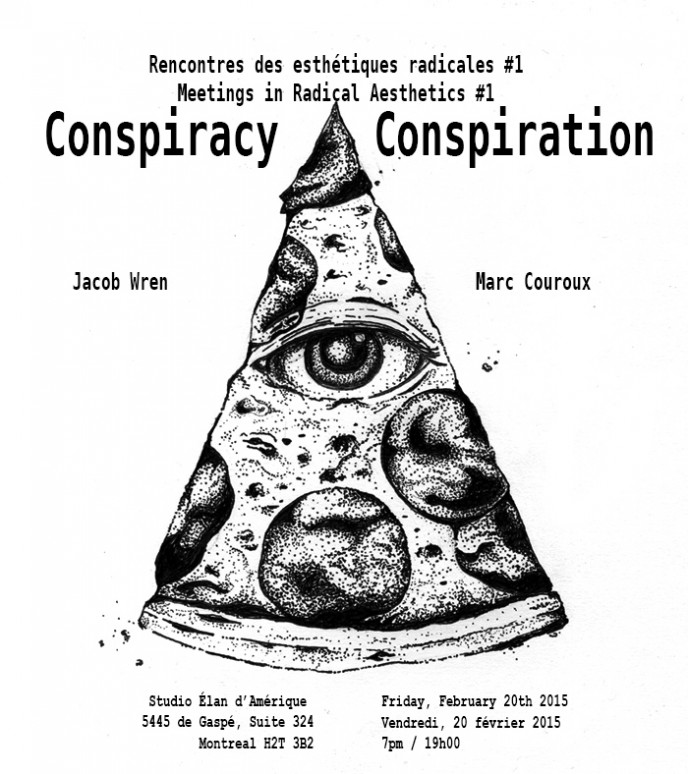 Alexandre St-Onge and I are pleased to announce the inauguration of a new series of conferences and workshops: the Meetings in Radical Aesthetics.
The idea is to bring people together and discuss radical, speculative or philosophical ideas about aesthetics on a regular basis. The Meetings in Radical Aesthetics are part conference, part research group, informal and open to the public, where participants are asked to be somewhat prepared, and arrived poised for discussion and debate. For each meeting, two artists or researchers are paired up and present a talk on a predetermined theme. This first meeting will bring together writer and stage director Jacob Wren with intermedia artist and York University professor Marc Couroux around the notion of Conspiracy.
Friday, February 20th 2015 / Vendredi, 20 février 2015
7pm / 19h00
Studio Élan d'Amérique
5445 de Gaspé
Suite 324
Montreal.
H2T 3B2
Suggested Readings (prior to the event)
http://merliquify.com/blog/articles/hyperstition
http://merliquify.com/blog/articles/hyperstition-an-introduction/
Marc Couroux
Marc Couroux is an inframedial artist, pianistic heresiarch, schizophonic magician, teacher (York University, Visual Arts) and author of speculative theory-fictions. His xenopraxis burroughs into uncharted perceptual aporias, transliminal zones in which objects become processes, surfaces yield to sediment, and extended duration pressures conventions beyond intended function. His work has been exhibited and performed internationally (Amsterdam, Berlin, Chicago, Glasgow, London) and published by Manchester University Press. With Asounder, a sonic tactic collective, he coordinated the (un)sound occupationworkshop (collapsing sound and politics) in Toronto in 2013. He is a founding member of The Occulture (with eldritch Priest and David Cecchetto), a Toronto collective investigating the esoteric imbrications of sound, affect and hyperstition through (among other constellating ventures) Tuning Speculation: Experimental Aesthetics and the Sonic Imaginary, an ongoing workshop with yearly iterations, and the Sounding the Counterfactual stream at the 2014 London Conference in Critical Thought (a blog at theocculture.net documents their evolving thought-forms). Recent talks occurred at the Signal Path workshop (New York, Center for Transformative Media, Parsons), Kingston University (London), Goldsmiths, University of London and the Aesthetics After Finitude conference in Sydney, Australia. His hyperstitional doppelgänger was famously conjured in Priest's Boring Formless Nonsense (Bloomsbury, 2013). He tweets as @xenopraxis.
Jacob Wren
Jacob Wren makes literature, performances and exhibitions. His books include: Unrehearsed Beauty, Families Are Formed Through Copulation, Revenge Fantasies of the Politically Dispossessed and Polyamorous Love Song, a finalist for the 2013 Fence Modern Prize in Prose and one of The Globe and Mail's 100 best books of 2014. As co-artistic director of Montreal-based interdisciplinary group PME-ART he has co-created the performances: En français comme en anglais, it's easy to criticize, Individualism Was A Mistake, The DJ Who Gave Too Much Information and Every Song I've Ever Written. International collaborations include: a stage adaptation of the Wolfgang Koeppen novel Der Tod in Rom (Sophiensaele, Berlin), An Anthology of Optimism (co-created with Pieter De Buysser / Campo, Ghent), Big Brother Where Art Thou? (a project entirely on Facebook co-created with Lene Berg / OFFTA) and No Double Life For The Wicked (co-created with Tori Kudo / The Museum of Art, Kochi, Japan.) He travels internationally with alarming frequency and frequently writes about contemporary art.